The McFall's catalogue
Guacamaya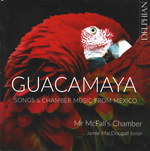 Download (1103Kb 2848x2880 JPEG)
In this recording, Mr McFall's Chamber is joined by Scottish tenor, Jamie MacDougall, in a programme of popular Mexican songs from the mid twentieth century, along with chamber works. Released 2023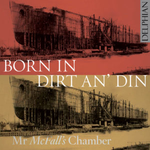 Born in Dirt an' Din is a coming together of new works commissioned from composers with a background in jazz - saxophonists Tim Garland and Martin Kershaw and pianists Paul Harrison and Mike Kearney. It also features some Raymond Scott cartoon classics. Released in 2019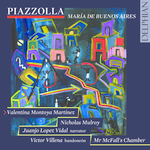 Astor Piazzolla and Horacio Ferrer's "operita", María de Buenos Aires, was written in 1967 and premiered in 1968. Outside any existing genre and suffused with the adventurous spirit of its times, it embraces not only the radical tango nuevo pioneered by its authors, but also the spirit of surrealism. This recording tries to go back to its authentic roots, and is accompanied by a new translation into English which resolves many of the obscurities of its wayward libretto. Released in 2017.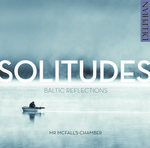 Music from Finland, Estonia, Latvia and Lithuania - hauntingly atmospheric and, by turns, passionate and reflective. The programme includes two popular Finnish tango numbers as well as Aulis Sallinen's Introduction and Tango Overture, celebrating the popular dance band music. In a performance which shows how evocative and communicative the piano sextet can be, the beautiful and the characterful are combined with the Mr McFall's Chamber trademark intimacy and gentle humour. Released in 2017.
Editor's Choice, five stars, Classical Music Magazine Read reviews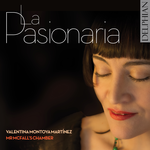 The disc unites two areas of repertoire which Mr McFall's Chamber have often combined in performance – Valentina Montoya Martínez's songs of exile, and the music of the tango nuevo, including songs and instrumentals from Ástor Piazzolla's 'operita' María de Buenos Aires. Released in 2013.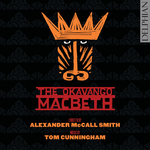 In April 2011, we recorded The Okavango Macbeth: a new opera based on the Macbeth story by writer Alexander McCall Smith and composer Tom Cunningham, arranged by Robert McFall. The live performances received a 5-star review in The Scotsman. Released in 2011.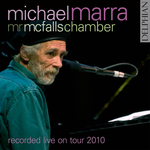 Our gigs with Michael Marra were described by The Scotsman as a 'spellbinding... tour de force'. We recorded all of the shows in May 2010 and have chosen the best bits for our exclusive live album. Released in 2010.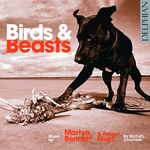 Martyn Bennett was one of Scotland's most innovative musicians, combining the traditional and modern, the local and international. This CD contains one original piece, as well as arrangements of Martyn's music, alongside two pieces by Fraser Fifield. Released in 2010.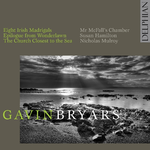 This, our first release on Delphian Records, is a recording of a piece which we commissioned from Gavin Bryars in 2007, "The Church Closest to the Sea", alongside two other recent works. Released in 2009.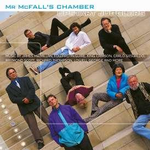 Upstart Jugglers, released in 2001 at the same time as Revolucionario, was the catch-all CD to include everything else that wasn't tango. Released in 2001.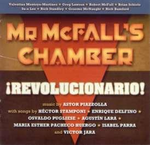 Revolucionario represents the tango - or, to be more precise, the South American - aspect of our programmes. It features vocalist Valentina Montoya Martinez, a Chilean singer who performed regularly at the Bongo Club in Edinburgh. Released in 2001.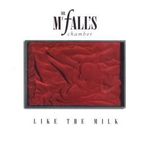 Mr McFall's Chamber's first CD, featuring Dave Brady. Released by Robert Fripp in 1999 on his DGM (Discipline Global Mobile) label. It was produced by percussionist Rick Bamford and recorded both in his front room and in Stockbridge Parish Church, Edinburgh. Released in 1999.