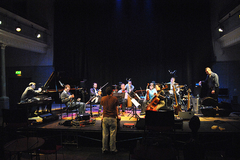 Mr McFall's Chamber was formed with the aim to create new audiences, new music and new directions in music. The group has a policy of mixing widely different styles in the same programme – anything from progressive rock, tango, cartoon classics, folk, jazz, early music to contemporary classical – to introduce audiences to music they otherwise might not encounter. Running through the group's history and planning for the future is a genuine desire to broaden the appeal of the (often lesser-known) music that it plays. The group is also dedicated to supporting the work of UK composers and regularly commissions new works, as well as generating new music from within the ranks of the ensemble.
The group was formed in 1996 from a number of players from the Scottish Chamber Orchestra and Scottish Ballet, with a core group comprising two violins, viola, cello and bass. The group collaborates with additional musicians from project to project – regularly working with additional pianists, percussionists, singers and soloists, depending on the nature of the programme. Over the years, the ensemble has built up a reputation for excellent music-making and has a growing following who trust the group to deliver exciting and innovative programmes, even when this includes music that they may never have heard before. These aims are combined with a pursuit of excellence in performance and a desire to make the concert-going experience as enjoyable as possible.
The group is unique among ensembles in Scotland, and much of the rest of the UK, offering concert-goers a genuinely different and exciting live experience.
This approach to innovative music-making has not gone unnoticed and they have recently been called 'the jewel in the Scottish musical crown' (Jan Fairley, The Scotsman). Writing in The Times, Robert Dawson-Scott acknowledged what it is that sets Mr McFall's Chamber apart from other groups: 'Why can't all concerts be like this - engaging, witty, relaxed, sophisticated, exquisitely played and just plain fun?'
Commissioning new works forms the core of the McFall's touring season, from supporting up and coming composers to commissioning international figures such as Tim Garland, Gavin Bryars, Martin Suckling and Martin Kershaw amongst others. Martin Suckling's What shall I give and Martin Kershaw's Closing In, were shortlisted as finalists for the British Composer Awards 2011.
Mr McFall's Chamber is a registered charity: SC028348