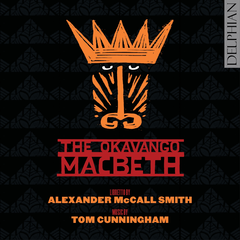 Price: £15.00 + p&p
The Macbeth story as played out in a troupe of baboons in Botswana? This fanciful idea inspired the writer Alexander McCall Smith and the composer Tom Cunningham to come up with their chamber opera, The Okavango Macbeth. Set in the Okavango Delta in northern Botswana, the opera deals with the efforts of an ambitious female baboon, Lady Macbeth, to encourage her husband the dominant baboon, Duncan. The response to the opera's premiere in the No 1 Ladies' Opera House, led many to conclude that in this extraordinary and unusual tale a new operatic gem has emerged.
In April 2011, Mr McFall's Chamber joined a cast of soloists from the RSAMD, Edinburgh Studio Opera and director Nicholas Ellenbogen to present this wonderful opera to the Edinburgh public over two nights at the Queen's Hall, followed by two days' recording. Arranged for chamber ensemble by Robert McFall, we were joined by some of our favourite collaborators - such as pipes and whistles player Fraser Fifield (also heard here on soprano saxophone) - and some new ones too - such as Alec Frank-Gemmill, principal horn with the SCO.
'[Alexander McCall Smith] explores the ironies and parallels of this whimsical analogy' – The Times, 22 April, 2011
'McCall Smith's succinct libretto is spun by composer Tom Cunningham into gorgeous tuneful melodies that linger'– The Scotsman, 23 April, 2011 FIVE STARS
This is a double-CD digipack, with two booklets.
Disc 1: Acts 1-3
Disc 2: Act 4