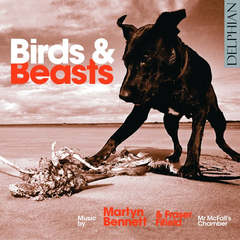 Price: £12.50 + £1.50 p&p
Martyn Bennett was one of Scotland's most innovative musicians, combining the traditional and modern, the local and international. A long-planned collaboration with Mr McFall's Chamber was never realised during his tragically short lifetime. For their second disc with Delphian, Robert McFall has put together a programme of his own sympathetic arrangements of Martyn's music alongside original works by Fraser Fifield, another of Scotland's virtuosic musical innovators. The premiere recording of Martyn's 'Piece' epitomises
his sophisticated mastery of fusion.
'[Bennett] caused a sensation – and much controversy – in British
folk music … Scottish bagpipe and fiddle music with techno beats'
— Guardian obituary, February 2005
1 Martyn Bennett arr. Robert McFall Cuillin Part 2 – [4:01]
2 Bennett arr. McFall The Miller [2:45]
3 trad./Bennett, arr. McFall Swallowtail [7:23]
4 Bennett arr. McFall Aye [6:13]
5 Bennett arr. McFall Peewits – [3:34]
6 Fraser Fifield Kilchoan Ferry [5:52]
7 Fraser Fifield The Beast [7:06]
8 Bennett arr. McFall Knives in Hens [11:15]
9 Martyn Bennett Piece for string quartet, percussion and Scottish
smallpipes in C [14:35]