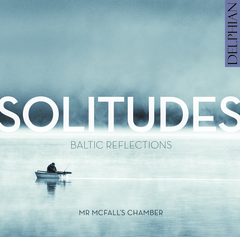 Baltic Reflections
Music from Finland, Estonia, Latvia and Lithuania
Cyril Garac, violin
Robert McFall, violin and viola
Brian Schiele, viola
Su-a Lee, cello
Rick Standley, double bass
Maria Martinova, piano
Price: £12.50 + p&p
No one knows quite when tango was established in Finland, but the style has a long history there – still little known to outsiders – and combines rhythmic interest and yearning melody with a distinctively Nordic melancholy.
In this ingeniously curated programme, two Finnish tangos from the 1950s and a tango-based work by Finnish classical composer Aulis Sallinen are woven into a bold tapestry of music from the Eastern Baltic seaboard.
These original compositions are complemented by Robert McFall's own sensitive arrangements for a core McFall's lineup of five strings and piano, and the programme culminates in a truly unique version of Sibelius's famous Finlandia Hymn.
''An imaginatively chosen, beautifully recorded programme, starting and finishing in Finland: Olli Mustonen's Toccata is both searing and eloquent, while you may never have heard a musical saw in Sibelius's Finlandia Hymn. In between are fascinating gems from Sallinen, Tuur, Aho, Vasks and Part, seemingly without a weak piece among them. Performances do full justice to the project in a disc that is well worth exploring.' - Editor's Choice, Classical Music Magazine
TRACK LISTING
Olli Mustonen, Toccata
Zita Bružaitė, Bangos for solo piano
Aulis Sallinen, Introduction and Tango Overture
Erkki-Sven Tüür, Dedication for cello and piano
Kalevi Aho, Lamento for two violas
Pēteris Vasks, Little Summer Music for violin and piano
Arvo Pärt, Für Alina for solo piano
Toivo Kärki, Täysikuu
Jean Sibelius, Einsames Lied (Solitude)
Unto Mononen, Satumaa
Jean Sibelius, Theme from Finlandia