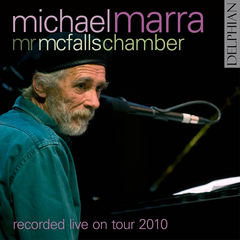 Price: £12.50 + £1.50 p&p
For those who came to any of our gigs with Michael Marra during May, you will know that it was a truly memorable experience, described by The Scotsman as a 'spellbinding... tour de force'. Happily, we recorded all of the shows in May and have now chosen the best bits for our exclusive live album.
If you have never had the opportunity to hear Michael live, you are in for a treat. As Rob Adams writes: 'Michael Marra's music has broad horizons. His songs' subjects roam across Mull and Shetland, over the Canadian prairies, to the Schenectady, New York home of swing-era jazz broadcasting and down into Mexico. But his muse is governed by sound Dundonian principles, including the futility of going in the huff and the folly of vanity.' Meanwhile, Mr McFall's Chamber have been described by The Scotsman as 'the jewel in the Scottish musical crown, continually pushing the envelope of chamber group repertoire and style. Intrepid in their musical taste.' The two are now brought together for the first time on this exciting release.
1 Intro [1:36]
2 The Lonesome Death of Francis Clarke [3.56]
3 The Slave's Lament [4.23]
4 Intro [1.26]
5 Hamish (the goalie) [3.49]
6 The Beast [4.29]
7 Intro [0.27]
8 Niel Gow's Apprentice [3.04]
9 Intro [0.52]
10 Happed in Mist [3.49]
11 Intro [0.27]
12 The Clock [3.49]
13 Monkey Hair [4.04]
14 Intro [1.38]
15 Schenectady Calling Peerie Willie Johnson [2.48]
16 Intro [1.08]
17 Pius Porteous [3.08]
18 Intro [0.17]
19 Green Grow the Rashes [4.48]
20 Intro [2.08]
21 Farlow [3.52]
22 Intro [1.08]
23 Frida Kahlo's visit to the Tay Bridge Bar [3.39]