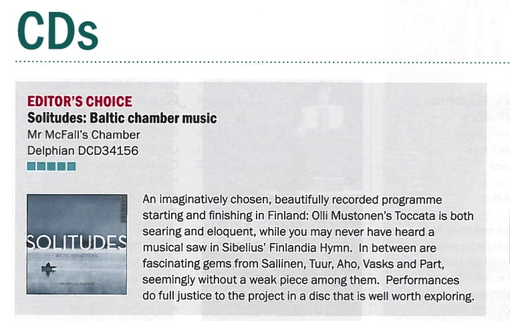 Gramophone Magazine
Andrew Mellor
Not just another mood disc hung off Baltic longing, tragedy and melancholy, but one whose view of the Baltic encompasses Finland – a kindred spirit to Latvia, Luthiania and Estonia in its orthodox-tinged melancholy but also a country rather obsessed with tango. 'Nobody quite knows when tango was established in Finland,' says the blurb. When you hear Toivo Kärki's Täysikuu spring out of the desolation that is Arvo Pärt's Für Alina (wondrously played by Maria Martinova), you get a vivid picture of an oppressed people glimpsing the light relief of the Argentinian dance form that they went on to make their own (though with all minor keys, naturally).
At the centre of the disc is Pēteris Vasks's fragile Little Summer Music, six short movements in which the joy of sunshine is hesitant, veiled – a summer whose revelry dare not speak its name (it was written while Latvia, that country of outdoor summer song, was still under Soviet occupation). That's preceded by Kalevi Aho's intricately weaved Lamento for two violas, Erkki-Sven Tüür's brittle Dedication for cello and piano, Aulis Sallinen's rhapsodic Introduction and Tango Overture and Zita Bružaitė's haunting Bangos for solo piano, its repetition of one-bar units creating an unmistakably Baltic sound. The disc opens with Olli Mustonen's Toccata, which has its own Baltic glances, and ends with a rendition of Sibelius's Finlandia Hymn in which the tune is played on a musical saw – at once absurd, comic and saddening, like an Aki Kaurismäki film.
Full marks for originality of concept and for execution, which has all this ensemble's trademark style and communicative nous, and for a fascinating booklet-note by Ivan Moody. But after a few listens, I'm all at sea when it comes to any sort of sonic thread or journey in a musical menu that enters the ear with wild and tenuous contrasts, for all its fascinating theoretic consistencies.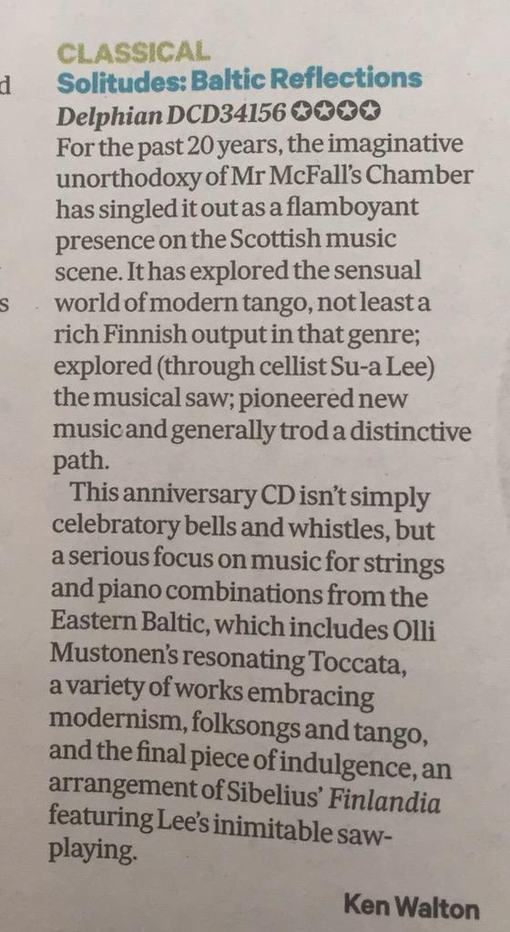 The Classical Reviewer
Mr McFall's Chamber prove to be versatile and terrifically accomplished musicians on their new disc from Delphian Records entitled Solitudes: Baltic Reflections
Although it is the tango that is billed as the main part of this new disc it is only part of the story. It is effectively a collection of works by composers from the Baltic region including Olli Mustonen, Aulis Sallinen, Erkki-Sven Tüür, Kalevi Aho, Pēteris Vasks and Sibelius that bring more than just a tango rhythm but longing, sadness and a heightened sense of nature.
The first work, Toccata is by the Finnish pianist, conductor and composer, Olli Mustonen (b.1967) (http://www.hazardchase.co.uk/artists/olli-mustonen) and opens with a reflective, gentle melody for strings, underpinned by a deep double bass note. The piano enters with repeated chords as the music increases in drama and passion eventually arriving at an insistent motoric toccata for the strings showing just a hint of Bach. The piano joins in this terrific section before the music slows to recall the opening complete with the rhythmic repeated piano chords. The music falls to a slow reflective pace before a pizzicato double bass brings a darker hue. The music rises and falls through a quite mesmeric passage eventually leading to a firm chord from the piano that brings a passionate outpouring from the strings. The pace picks up with the strings pushing ahead in the motoric toccata theme with strong chords from the piano before all weave around each other as they move quickly to the coda.
Zita Bružaitė (b.1966) (http://www.bruzaite.com) is a Lithuanian composer whose Bangos for Solo Piano is performed here by Maria Martinova. Written in 2010 it has a fine fluid, rippling melody that moves through shifting harmonies, rising and falling in intensity. This is a thoroughly lovely little piece that comes to a sudden halt before a chord ends the work quietly.
Aulis Sallinen (b.1935) (https://core.musicfinland.fi/composers/aulis-sallinen) is one of Finland's most distinguished composers. His Introduction and Tango Overture is scored for piano quintet or small string orchestra and opens with a slow, faltering rather melancholy piano theme before the cello surreptitiously enters, rising up and bringing an element of passion to the music. The whole ensemble joins to bring a lovely sonority and, as it develops, one is aware of a subtle underlying rhythmic pulse, especially when a passage for pizzicato cello arrives, the piano keeping the broader theme. This is music of some strength and depth particularly when it falls to a quieter, slower section. However, it soon picks up again with the cello and piano weaving the theme before arriving at a magical moment with cello harmonics and gentle piano line. The music picks up dynamically and rhythmically as the tango theme that has been underlying the music becomes more obvious. Sallinen provides a wonderfully imaginative use of a tango rhythm in this terrific work that is played with much style and musicianship.
Next on this new disc comes the Estonian composer, Erkki-Sven Tüür's (b.1959) (http://www.erkkisven.com) Dedication for Cello and Piano played here by cellist Su-a Lee and pianist Maria Martinova. It rises up on the cello before sharp sounds from the piano strings are heard. The piano continues to move the music slowly forward, the cello eventually bringing a fine melody. There are further sharp sounds on piano strings before the melody again proceeds with a rippling piano accompaniment. The tempo suddenly picks with both cello and piano hurtling ahead. There are more string chords clashing against a held hushed cello note before the cello develops the melody with gently flowing piano accompaniment. There are moments of passion for the cello before all quietens, there are more string chords strummed as the hushed cello slowly moves forward to the hushed coda.
Kalevi Aho (b.1949) (https://www.boosey.com/composer/Kalevi+Aho) is another eminent Finnish composer who is represented here by his Lamento for Two Violas. Here Robert McFall changes to the viola to join violist Brian Schiele in this short but terrific work that opens quietly and slowly with one viola bringing the theme and the other playing pizzicato. Both then weave the flowing melody around each other providing some lovely textures before moving through some quite anguished passages. There is some absolutely fabulous playing by these two violists before the sad little coda.
The Latvian composer, Pēteris Vasks (b.1946) wrote his Little Summer Music (Mazā vasaras mūzika) for violin and piano in 1985 and is played here by Cyril Garac (violin) and Maria Martinova (piano). It is in six movements opening with Broad, resonant where the piano is quickly joined by the violin in a theme with a kind of 'Scotch snap' with Vasks creating some lovely little decorations. Unhurried is a slow folk style tune that soon rises in dynamics before falling to a quiet coda.
Energetic brings a fast, repeated piano theme with pizzicato violin before both push the theme forward quickly into Sad, a slow drawn theme for violin to which gentler piano chords are added. Both instrumentalists develop the theme as it becomes more animated before leading to a reflective melancholy coda.
A sudden rapid downward scale from the piano opens Joyful with the violin taking the melody quickly forward, joyfully but with a nostalgic edge. There is some terrific playing here from both these fine artists. With the final movement, Broad, resonant the piano brings a broad chord to which the violin adds a flowing melody. The 'Scotch snap' appears in both instrumental lines before the music builds in intensity, falling for the quiet coda.
Arvo Pärt (b.1935) (https://www.universaledition.com/arvo-part-534) must surely be Estonia's most famous composer. He wrote Für Alina for piano in 1976 especially for an Estonian girl living alone in London. It opens gently as the theme is slowly picked out with a jewel like clarity. This is a short, simple yet very effective piece. Quite lovely.
Finnish composer, musician, music producer and arranger, Toivo Kärki (1915-1992) was one of the biggest names in Finnish tango. His Täysikuu (Full Moon) is arranged here by Robert McFall. The strings bring a slower reflective opening before very soon launching, with the piano, into a tango. This is a light and flowing tango melody with no pretentions to any depth but no less attractive for that. Certainly the players are adept at catching the style of this music.
Robert McFall has arranged Einsames Lied (Solitude) from Belshazzars Feast by Finland's greatest composer Jean Sibelius (1865-1957). This is a wonderfully atmospheric and accomplished arrangement with the sonorities created by this combination of strings really rather fine providing some lovely textures and harmonies.
Finnish songwriter and musician, Unto Mononen (1930-1968) is best known for his numerous tango compositions including the famous Finnish tango song Satumaa here arranged for strings and piano by Robert McFall. It brings another lively tango melody, these players showing such fine musicianship in this lighter yet wholly appealing piece.
Finally we return to Jean Sibelius and his famous Finlandia Hymn but not as anyone is likely to have heard it before. It is arranged here by Robert McFall for the remarkably unusual combination of musical saw and piano quintet. Su-a Lee swops her cello for the musical saw to join the ensemble in this light-hearted conclusion to this attractive collection of Baltic Reflections.
Mr McFall's Chamber are versatile and terrifically accomplished musicians who receive a first rate recording. There are excellent booklet notes from Ivan Moody.