Recorded live on tour 2010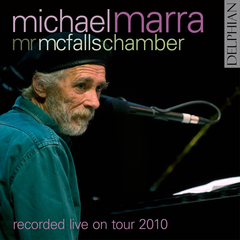 Rob Adams, The Herald, 31st May 2010
Michael Marra's music has broad horizons. His songs' subjects roam across Mull and Shetland, over the Canadian prairies, to the Schenectady, New York home of swing-era jazz broadcasting and down into Mexico. But his muse is governed by sound Dundonian principles, including the futility of going in the huff and the folly of vanity.
He was in splendid company here with a McFalls sextet offering strings, musical saw, accordion, harmonium and bandoneon that, between accom¬panying Marra superbly, visited Finland, Argentina and Cuba and captured a Dvorak bagatelle with an uncommon gracefulness that emphasised the setting of Marra's compelling foggy growl in a chamber music cocoon as a sweet and sour recipe akin to Tom Waits' Somewhere or One from the Heart.
Some of these songs have a long history of string arrangements but what impressed was the fit of the McFalls' playing. They were alive to every Marra-esque detail, with eerie saw howls depicting the Yukon in the Lonesome Death of Francis Clarke, a churchy harmonium recalling Monkey Hair's subject had married a minister and the keyboard picking out a solemn Flooers o' the Forest for Happed in Mist's coda.
Occasionally, as on the two Burns songs, The Slave's Lament and Green Grow the Rashes-o, things became prosaic. But between Marra's perfectly honed, withering song introductions and Robert McFall's endearingly bumbling "church notices" there was much entertainment alongside the brilliant song content.
Jan Fairley, The Scotsman, 1st June 2010
Mr McFall's Chamber are the jewel in the Scottish musical crown, continually pushing the envelope of chamber group repertoire and style. Intrepid in their musical taste, here they launched straight into a yearning piece created for Finland's Maria Kalaniemi, later taking us to Argentina courtesy of Piazzolla and Cuba with Alvarez's wildly rhythmic Pregoneros.
This, though, was a night in which their thrilling chamber work was geared to amplifying the songs of Michael Marra, a man who rivals Tom Waits in capturing quirkiness. Marra's genius is to distill wit and wisdom out of musing on improbable encounters steeped in "what ifs".
There's The Lonesome Ballad of Francis Clark for an uncle buried in the Yukon, and a back-handed football tribute based on the incongruous visit of film star Grace Kelly to Dundee United, all interspersed with show-stopping settings of Burns's Slave Lament and one for a Lewis Grassic Gibbon story called Monkey Hair that brought out the goose bumps.
Sitting at the grand piano, Marra delivers everything with an irresistibly gravelly voice, linking songs with lateral stories filled with pithy recollections that become punchlines.
While neither he nor McFall does sentimental, they draw you deftly into a world where desire mingles with the absurd, which is all underscored by cellist Su-a Lee adding shivers of bowed saw, or accordionist Phil Alexander adding sparkles on glockenspiel or thrum from harmonium.
The tour de force, an imagined visit of Mexican artist Frida Kahlo to Dundee's Tay Bridge Bar, was spellbinding.
Bill Dunlop, Edinburgh Guide, 29th May 2010
Uncertain what happy thought or simple contingency had teamed singer-songwriter Michael Marra with Robert McFall's eclectic ensemble, this reviewer wasn't quite sure what to expect when he pitched up at The Queen's Hall. No cause for concern about the quality of talent, simply how Marra and McFall at al were going to meld their clearly disparate performing styles. Music, however, is its own lingua franca, especially when the exponents are as talented as these.
Mr McFall's Chamber have developed a deserved reputation as they have a repertoire of lesser-known classics from various genres, gently bending them to suit their own style and show the artists available to best effect. Robert McFall himself presides, offering laid-back introductions to the ensemble's offerings, leaving Michael Marra to provide the like for his own contributions. There can have been few in the audience completely unaware of what one of Scotland's hidden treasures can do with a few deceptively simple lines and a melody, and by the concert's end none at all.
Bouncing from a beautiful Finnish number into lively tango, the Chamber's own offerings ranged from Latin America to Europe, including a delightful version of Dvorjak's bagatelle for harmonium and strings, Robert McFall pointing out how common a household instrument the harmonium had once been, and presumably not confined to hymn-singing accompaniment.
If pals from Longniddry mourned that Michael Marra did not include the much-loved 'Hermless' in the on-gaeins, 'Frieda Kahlo's Visit to the Tay Bridge Bar' received the rapt attention of one young Spanish lady whose attention had previously been elsewhere. Along the way, Marra had already given his possibly definitive version of 'Green Grow the Rashes' and his own pitch-perfect take on human capacity for good and bad 'Farlow'.
A balance was judiciously struck between McFall's instrumental pieces and Marra's songs, giving both space in which to shine. The accompaniments which McFall's gave to Marra's numbers genuine ornamentation which added to, rather than obscuring their simple effect. On tour till September, and possibly en route to a festival or two, this combination of talents is already travelling.
Jennie Macfie, September 2010
Michael Marra, gravel-voiced singer/songwriter from Dundee, is a crowning jewel in the Scottish cultural landscape. Though lesser known than his contemporary and former bandmate Dougie Maclean, on the strength of this evening's show I'd bet that it will be Marra who, like Ellington and Gershwin before him, makes the transition to the enduring heights of the classical canon.
Classical musicians playing popular music is not a new concept but the process usually shows up the inherent predictability that underpins the popularity. In this case, however, the artistry and precision of McFall's Chamber provided the perfect setting for Marra's music, framing and enhancing its quirky brilliance, subtle tunings and emotional depths. Predictable it's not. The core members of McFall's appear with respected classical outfits, but also consistently enjoy ranging widely and iconoclastically across the musical spectrum from tango to jazz and rock and every nook and cranny in between. The inspired addition of guest Phil Alexander (Salsa Celtica, Moishe's Bagel) on accordion, harmonium, xylophone and delicate, restrained backing vocals was a match made in heaven.
If there was a theme to the evening it was, as Robert McFall announced in his introduction to a tune by another wideranging musical maverick, the Finnish composer Timo Alakotila, loosely grouped around the idea of 'islands'. Loosely was the word, as Marra came on to reprise his lovely ode to his late Great Uncle Francis who died, estranged from his family, in the Yukon. Not exactly an island…but this was an opportunity to hear Su-a Lee bring out her second instrument, the musical saw, and demonstrate her virtuosity and the unearthly beauty of the saw. Whoever it was who, probably in the Appalachians in the early 18thC, first discovered that this humble carpentry tool could sing such lovely tones should be canonised.
Some of Marra's songs were inspired by the works of Lewis Grassic Gibbon, such as 'Happ'd in Mist' which, here, with the strings cascading down behind the words while the saw soared high above, could hold its own with anything by Vaughan Williams. Every so often the self-effacing Marra effaced himself completely, sidling away on soft-soled shoes to leave the stage to McFall's. Two tunes by Argentinian composer Astor Piazzola, with more than a nod to J S Bach, 'Fugue 9' and 'Chorale', were worth the price of admission alone, from the first notes of the harmonium introduction to the delicate duetting of cello and bass. The price of admission would also have been amply repaid by Marra's version of Burns' 'Slave's Lament', often performed with poignancy, never with such horror and pathos in every note.
An evening of outstandingly beautiful music finished with the whimsically yearning 'Frida Kahlo's visit to the Taybridge Bar' encored, after some rapturous stamping and whistling by the usually reticent One Touch audience, with the tune Marra wrote for a young, tour-weary, Dougie Maclean, "Niel Gow's Apprentice'.