Music by Martyn Bennett and Fraser Fifield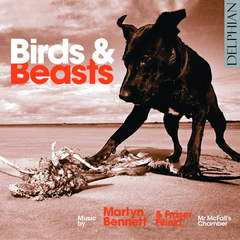 The List, May 2010
A quintet of classical string players both thinking and playing out of the box, a jazz pianist and two drummers, and a piper with both folk and jazz leanings – it can only be Mr McFall's. The music is equally eclectic – two compositions by Fraser Fifield (the piper in question), Martyn Bennett's once lost 'Piece for string quartet, percussion and Scottish small pipes in C', and a half dozen arrangements by violinist Robert McFall from Bennett's music.
The McFall's have a track record in adapting Bennett's ground-breaking folk-meets-techno experiments for this instrumentation, and it is good to see it now on disc. Tunes from Bothy Culture and Bennett's stage music for Knives In Hens lend themselves well to the treatment (the later, even more studio-dependent Grit could have been a trickier proposition), and they capture the excitement and vitality of Bennett's creative thinking in convincing fashion, while Fifield's fiery 'The Beast' is a virtuoso achievement all round.
Kenneth Walton, The Scotsman, June 2010
It might seem strange to be discussing the music of the late Martyn Bennett under the classical banner, as his legacy was a style of composition rooted in a background of piping and a fused influence drawing on techno beats and folky riffs. But the protagonists on this new Delphian disc are Mr McFall's Chamber, and their performances (and Robert McFall's arrangements), bear a classical identity that weaves its modal charms through works as diverse as the upbeat skirls of Cuillin Part 2, the moody stillness of The Miller and the enchanting sound world of The Peewits. Any sameness gleaned from extended listening is offset by fellow fusion composer Fraser Fifield's Kilchoan Ferry and The Beast.
Bennett was clearly most at home with his natural trad bent to the fore. Where, as in the Piece for string quartet, percussion and Scottish smallpipes, he tries to pull away from that world the result is less convincing, even in the zestful hands of Mr McFall and his band.
Neil McFadyen, Folk Radio UK, June 2010
This release by Mr McFall's Chamber on the classical label, Delphian, is the result of a long planned collaboration between Martyn Bennett and Robert McFall that was never realised during tragically short life of one of Scotland's most admired and accomplished musicians.
What may be one of the most innovative albums of the year gets off to a surprising start with Martyn Bennett's Cuillin, Part 2. It's a challenging start to any album, for artists and audience alike. There's little in the way of introduction here and we're treated immediately to the very impressive sound of Fraser Fifield taking on Martyn's complex pipe flurries with skill and, quite clearly, no shortage of relish.
It's a faithful and carefully crafted rendition of one of Martyn's more lively pieces that was always a crowd pleaser. This new arrangement is not without its humour either, with the string ensemble echoing one of Martyn's favourite comments on his art – this is dance music!
The close of Cuillin is just as hazardous to navigate as the opening. Again the ensemble deals with this in typically skillful style by leading into a short, gentle piece, The Miller, composed by Martyn for the David Harrower play Knives In Hens. Later in the album the music for the play is revisited in a medley of the same name. This 11 minute arrangement by Robert McFall provides more of Martyn's music that the majority of his fans will be unfamiliar with and show he was just as accomplished in composing traditionally styled music as he was in adapting it for the dance floor.
In Swallowtail the ensemble has, I believe, taken Martyn's music forward in one of the ways, I'm convinced, he would have himself. Martyn's original recording of this traditional Irish tune was entirely a solo effort, despite the complex range of instruments used. For me, this version is even more accomplished and even more exciting than the original. In the Birds & Beasts version of Swallowtail we have, a faithful and skillful re-working of the original but with the musicians' individual signatures and interaction with each other woven into the piece. The fiddle is light, seemingly effortless and a joy to hear, and as the complexity of the track is crystallized and freshened by the rhythm section, it's carried towards the dance floor by Fraser Fifield's flawless re-enactment of Martyn's irresistible piping along with his own freeform meandering and improvisations. As it did originally – this track cries out to you to dance!
And so to Aye. Strange to hear without Martyn's patient telephone whispers. With the humour element set aside, though, we can sit back and further revel in the Grappelli-esque intricacies enjoyed by both violin and viola (I think?) with gentle nuances of bass provided by Su-a-Lee's cello. The violin style is more crisp and staccato than Martyn's, less fluid, to my un-trained ear. It perfectly suits the accompanying fast paced percussion. McFall's chamber enter the realms of drum & bass in fine style and Greg Lawson's electric violin is every bit as exciting to listen to as Martyn's was on the original.
Peewits comes from a work commissioned by the Martyn Bennett trust. Robert McFall has taken this variation of the theme in The Miller which Martyn wrote for an adaptation of Kidnapped. This short, gentle violin melody is reminiscent of Vaughn Williams' The Lark Ascending. Anyone who's ever gazed in wonder at peewits (lapwings) indulging in their aerial acrobatics would understand.
In addition to Fraser Fifield's substantial contribution as a musician, we're also treated to some of his own work as a composer, which provides a perfectly apt compliment to Martyn Bennett's own work. Fraser is every bit as fond, and capable, of innovation and his piece for low whistle and strings, Kilchoan Ferry, showcases his expertise in merging traditionally styled airs with modern nuances and jazz rhythms. The Beast is a multi-faceted exploration of the highland pipes. It's exciting to listen to and the latin-jazz keyboards over intricate pipe flourishes seem a clear indication that the piece must have been named for the complexity of it's execution.
The final track on the album is Martyn Bennett's Piece for string quartet, percussion and Scottish small pipes in C. Originally written by Martyn in 1995, the piece was lost until a time when Martyn was too ill to play any longer. At last the plans Martyn developed with Robert McFall have come to light and the piece, which Mr McFalls chamber have performed live on several occasions, is available as a studio recording. The piece is a powerful reminder that Martyn's talent was formidable from an early age, and that his own musical explorations would have taken us on many different journeys.
Just like Martyn's own recordings, this album is filled with contrasts. It's often been remarked that he played both fiddle and violin – a distinction that became important from his very first recording and which is upheld in this release. In taking on the task of completing the work Martyn Bennett and Robert McFall planned together, the ensemble has found even more room in these pieces for innovation and improvisation. Mr McFall's Chamber, Fraser Fifield and their guests have created a wonderful thing; a collection of recordings that not only pays tribute to Martyn Bennett's skill as a composer, arranger, musician and entertainer, but develops his music beyond what he was able to accomplish in his lifetime, and in the direction he would have wished.
I've always said, as have many others, that Martyn was years ahead of his time. With the help of Mr McFall's chamber, Fraser Fifield and the rest of this very impressive gathering of musical talent his music remains firmly at the cutting edge.