Tango with Victor Villena, Cyril Garac and Valentina Montoya Martinez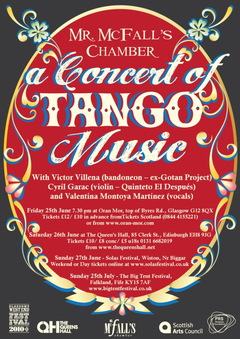 Jan Fairley, The Scotsman, June 2010
Mr McFall's Chamber placed tango firmly on the UK map back when they began in 1996, particularly the new tango of Astor Piazzolla. In this stunning concert they played a special tribute by threading the programme with key pieces from Piazzolla's less-heard masterpiece, the tango opera María de Buenos Aires.
While the project has been several years in gestation, as singer Valentina Montoya Martínez declared, it was worth the wait. Montoya, although born in Chile, was destined to sing these dramatic songs of the River Plate region that joins Argentina to Uruguay. Gamine and darkly dramatic with an attractive flinty personality, her beautifully expressive voice coupled with her exile background, defined the night.
While tango-dance is more sexually orientated, at the core of tango-song are the thwarted dreams and often tragic lives of South Americans. This was given a contemporary twist with the premiere of several moving compositions by Montoya herself, including the show-stopping Solas composed in memory of the families of those who "disappeared" under military dictatorship.
Dynamic traces of the rich European traditions brought by immigrants that have fed into tango shone in consummate ensemble play which saw compelling melodies woven inside spacious rhythmic layers of tonal colour.
This thrilling soundscape was rooted in the push and pull of the bandoneon, tango's quintessential instrument, played by guest Víctor Villena, who, with French violinist Cyril Garac, ensured that McFall's Chamber yet again find themselves triumphantly defining the innovative edge of the Scottish scene.