Cottier Theatre, Glasgow opening night of The Cottier Chamber Project
* * * * The Scotsman, Kelly Apter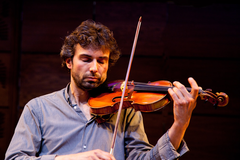 Tango is so inextricably linked with Argentina, it's hard to imagine it being cultivated anywhere else. Certainly not the wintry streets of Poland – a far cry from the sultry dance halls and bars of Buenos Aires.
Yet from the early 20th century, tango was indeed being composed, performed and danced to in the Polish capital and beyond. As is to be expected, the Poles put their own stamp on it, slowing the pace and injecting a gentle melancholy that reflected the impact of wars, both past and on the horizon.
Sitting in cabaret-style seating, while Mr McFall's Chamber performed on a stage decorated with standard lamps and ornate rug, it took just a single bar of Jerzy Petersburski's 1928 work Tango Milonga to transport us to another place and time, especially with the ferociously talented first violin, Cyril Garac, leading the way. [pictured]
Artur Gold's Where is Your Heart? proved equally evocative, with the knowledge that violinist Gold was forced to dress as a clown while he entertained Nazi soldiers in Treblinka shortly before his death.
Pulling together these, and four other tango works, including the enthusiastic Hug Me, Squeeze Me, Kiss Me, by Wiktor Krupinski, was an inspired move by Robert McFall. But cleverer still was the decision to sandwich Grażyna Bacewicz's Piano Quintet in the middle, to add a touch of gravitas to the programme.
Written in 1951, the piece echoed everything Bacewicz must have endured in war-ravaged Warsaw: foreboding, frantic chaos, thunderous drama, sadness and a mournful acceptance.