Day 2 of our Electronics Project brought with it a strange sense of deja vu, more so for some than others... Amble joined us for last year's project, so we were delighted that she enjoyed it enough to take part again this year. But it was only around 2 hours into the workshop that something dawned on Su-a: she had already played Amble's piece before. Much hilarity ensued. All the more so since she had spent the morning asking hundreds of questions about how exactly Amble wanted it played.
Chapels with splendid glass windows
The piece explores the use of samples with live acoustic performers. The samples are chosen to enhance and compliment to rich tones of the string ensemble. In addition to this, each instrument has specific phase, delay and reverb instructions, which will respond to controls from the musicians via MAX/MSP and Logic.
The piece explores our relationship with the past and the present, the instrumentation and poetry conjuring images of medieval landscape whilst the 'sampled' sound and effects engage us with our relationship with technology and electricity. The piece explores the sense by which we are all living in a present which is defined by our longing for the past and our aspiration for the future – we are constantly weaving our 'now' from our stories and hopes.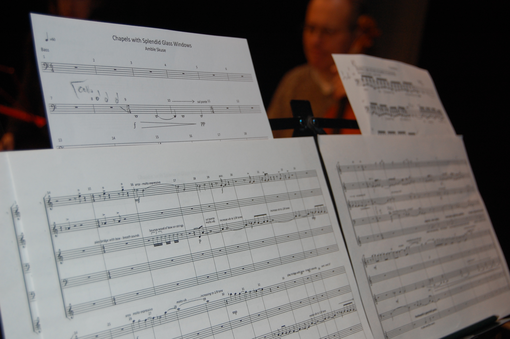 Video footage of a few bars of Chapels - featuring Su-a's infamous glissando:
Amble Skuse
Flute player and composer Amble Skuse writes interactive live technology pieces which reference Scottish Traditional Music. After studying at Dartington College of Arts (now University College Falmouth) and Bath Spa University she began writing for traditional music performers, finding ways of incorporating live electronics into the performance.