This year's Electronics Project has been a rewarding experience for everyone, not least because of the variety of music of offer. As Day 3 dawned, we turned to jazz-based improvised grooves with Malcolm Macfarlane - a new experience and a learning curve for us all. Although some of the effects weren't entirely desirable - see Su-a's blog for the full story...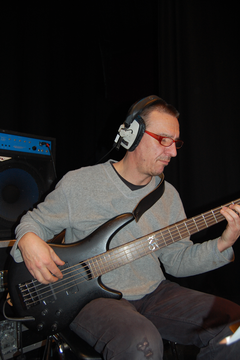 A change in direction brings with it a change of equipment. As well as the group sporting rather fetching headphones throughout the day, Rick also got the excuse to dig out his 5-string Ibanez bass guitar. In fact, his basslines would prove to be the foundation of the day's improvised music-making. This makes for a happy Rick. All our composers were given the option of working with acoustic or electric instruments, and although Louise worked with the electric versions on Day 1, we soon found that the sound produced by the acoustic instruments was preferable - Rick's bass guitar being the exception when it came to Jazzy Friday.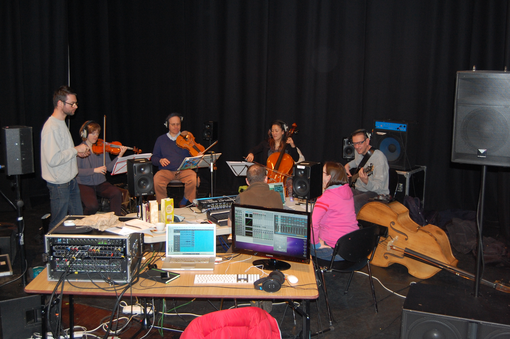 Untitled
Malcolm's as-yet untitled work explores the interaction between improvised and notated music, integrating electronics with live instruments. This is how he described his intentions for the workshop:
I'd like to explore the possibilities of taking this traditionally scored music and, working with the FX and production capabilities of Logic Pro, create something that develops the piece into the sonic world that I feel could be very exciting and a great enhancement to the listening experience. I would try to take the music to another level of expression with interaction between the musicians and the electronics. I also imagine that the 'notes' element of score will be considerably thinned-out in the process as the repetition in some of the parts can be achieved through delays and/or looping (and even some pre-recording). It would also be fantastic to have the input and expertise of all the players, composers and producers!
Malcolm Macfarlane
Malcolm's main focus is composition, and he has written many recent works for contemporary classical music ensembles and musicians, as well as commercial production music over many styles and media. He is also a freelance guitarist and a solo recording artist.
Malcolm recently received the Scottish Arts' Council funded Scottish Jazz Award for guitar (2009). As a jazz guitarist he has gigged, toured and/or recorded with many musicians from all over the world including: Jamie Cullum, Barbara Thopson, Tam White, Barbara Morrison, Salena Jones, Stacey Kent, Jacqui Dankworth, Jacqui Hicks, Claire Martin, Gary Husband, Peter Erskine, Alrid Andersen, Jon Christensen, Charlie Rouse, BBC Radio Big Band, NYJO, SNJO, SCJE, Marc Antoine, Maria Schneider and Florian Ross amongst many others.
More recently he has been focusing on composition and has scored films, provided music for audiobooks and written many pieces for the Red Note Ensemble and for a Jazz Expo project in 2010 with Mr McFall's Chamber at the Edinburgh International Jazz Festival. He has also led many of his own groups including the Scottish Guitar Quartet that he founded in 2000 and is featured on over 20 CD releases.