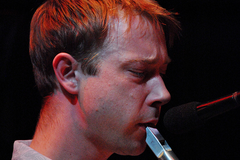 In the run-up to our Four Corners tours in May and September, we'll be profiling each of the four composers who have written new commissions for the project. As well as giving you an insight into their background, you'll also have the chance to find out about how the collaboration came about, and how each of the composers has approached the challenge. First up, Fraser Fifield...
Fraser Fifield: Q&A
Tell us about your piece. What inspired it?
My piece, soon to be titled, grew from two ideas… the opening and closing sections use a tutti melody played in a loose and ornamented fashion, reminiscent of the psalm singing style of the Free Church - an approach I've used on a couple of occasions before and found to be effective. The second seed came from a groove and chord progression which I liked and then worked some melodic lines around. There's also a section for improvised bass solo over string chords which is included to make the transition from opening section into the body of the piece and also because it's a texture I really like. I also used it because Rick Standley, the bassist in question, is very suited to making such an idea work beautifully.
How difficult is it to capture a place in music?
I took the approach that as I'm from the North East and do have traditional roots in my playing and writing then I should write what I like without being bound to emulate, for example, the music of Scott Skinner, Peter Milne, the Shamen or Annie Lennox. Instrumental music is of course incredibly subjective, so even if I had tried hard to represent my personal views or impressions of the area, I'm not sure that could be translated successfully to a listener without falling into cliché.
To what extent have you tried to segregate the 'classical' quintet and the 'folk' quartet in your score?
Not to a great extent… I'm in the fortunate position of being familiar with the playing of all the members of the ensemble, so it was possible hopefully to write with each in mind. The 'folk' musicians involved of course have many more skills available than just the authentic traditional roots.
Have you worked on a collaborative project such as this one before, with other composers?
No… however, music in my duo with Graeme Stephen is sometimes developed collaboratively and I did co-write a few songs in Salsa Celtica once upon a time with Lino Rocha and Toby Shippey.
How well do you all know each other, and what's it like working alongside them?
We all know each other pretty well after working together on a huge variety of projects for many years. This fact of course takes a lot of pressure out of the situation and enables everyone to relax and be themselves.
You've all had some interaction with McFalls in the past. What's your own background with Mr McFall's Chamber?
When the score for Martyn Bennett's composition 'Piece for String Quartet, Percussion and Scottish Smallpipes in C' was found, the composer was unfortunately too ill to play and record it, and suggested to the group that I play in his place - a great honour for me. Thereby my association with the group started. Over perhaps 6 years now I've performed regularly with McFalls, primarily playing the aforementioned Bennett composition, arrangements of Bennett tunes by Robert and two of my own compositions, one of which was commissioned by the group. I've also enjoyed working with the group in several other situations; James Ross's 'Chasing the Sun' suite, and the opera 'The Okavango MacBeth' come to mind.
How do you feel about being involved as a performer as well as a composer in this project?
For me it is more usual to be involved as performer as well as composer than not. The only occasions I can think of where I've functioned solely as composer were on a piece for the National Youth Pipe Band and one for an orchestra made up of musicians from the combined music schools of Plockton, Douglas, Broughton and Dyce, both in 2010 I think.
You've had the first rehearsal now and each heard the other's compositions. What are your impressions?
As Robert suggested, the objective for the first day was for everyone to feel good by the end. In this regard we succeeded. All pieces were in good shape. Aidan's was perhaps the most challenging technically to the ensemble, and I was in the embarrassing situation of not being able to play my own so well, having filled my relatively small RAM area with other music in the time between completing composition and the first rehearsal.… But each writer had certainly completed the set task admirably I thought. Each of the four pieces quite is different to the others. The resulting concerts will certainly provide a really entertaining, high quality music experience for listeners I'm sure.
Profile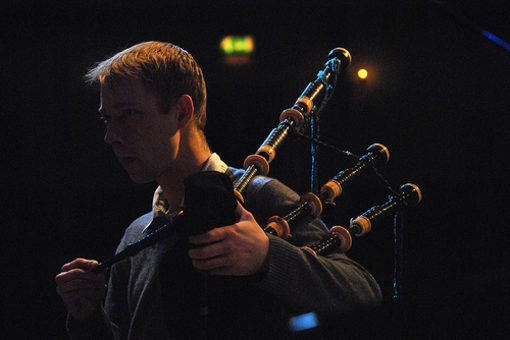 A most individual musician, Fraser Fifield plays an unusual combination of instruments all to an unusually high standard. Aged 9 years, in rural North-East Scotland, Fifield commenced his enduring relationship with the Great Highland Bagpipes. He learnt from two excellent local Piping exponents and went on to win many prizes at various piping competitions around the north of Scotland. After piping for some years, as a companion instrument, Fifield chose the saxophone and continued to study that instrument thoughout his school years and on to Royal Scottish Academy of Music in Glasgow. A convenient transition, somewhere in between the pipes and sax was found in the Low Whistle which these days we hear him play perhaps more often than the other instruments. On the Low Whistle in particular the influences from the music of pipes and saxes distil into something new. Fifield's whistle playing has solid traditional roots but can soar into passionate jazz inflected soloing.
Scottish Highland Folk Rock legends Wolfstone summoned Fraser, aged 18, to come and play with them which he did. Returning from California to Glasgow 3 weeks after the start of his 2nd college year indicated Fifield's growing desire to get into the real music business. Taking a year off to 'practice' before completing his BA Honours, fourth year Fraser fell in with popular North East Scotland outfit The Old Blind Dogs and continued playing with them for two and half years. The ordinary BA degree came through the post one day and signalled the end of Fifeld's academic pursuits.
Moving down to central Scotland Fifield started playing with Edinburgh Latinos, Salsa Celtica, balancing the celtic with the salsa through his pipe and whistle playing and his compositions. Six years with Salsa Celtica included performances at main stages in Cambridge, Womad, Lincoln Centre and many more great concerts and tours. Honest Water, Fifield's first solo recording, released on his own label in 2002, gathered a lot of great reaction from press and public alike. The Herald's Rob Adams writing, "music with heart, emotion, and tunes that the "repeat play" button was designed for."
Versatility and skill as a musician has always kept Fifield engaged in other musicians projects such as Graeme Stephen Sextet, Chris Stout, Mr McFall's Chamber, Mick West, Alyth McCormack, Kathleen MacInnes, Gavin Marwick, Jim Sutherland, La Banda Europe, Unusual Suspects, Donnie Munro and many more. At the request of the late Martyn Bennett, Fraser continues to be involved playing Martyn's music in several different forms, occasionally with his electric band Cuillin Music and also with the maverick classical ensemble Mr McFall's Chamber.
Fraser's fourth album, Stereocanto, was released on October 5th 2009 on Tanar Records. A multi-layered recording of original compositions that feature Fifield's dazzling low whistle in particular alongside magnificent playing from Alyn Cosker on drums and Graeme Stephen on guitars, multi-layered electronic beats and textures, strings and much more. The wonderfully expressive Bulgarian Kaval has found a permanent space in Fraser's flight case and features in his own hands on some tracks. The music is, unsurprisingly, innovative, to say the least.