In the summer of 2011 we took one of those calls that doesn't come along every day: would we like to be involved in a new BBC documentary about legendary bass player Jack Bruce, playing for new arrangements of his classic songs? And would Robert like to write the arrangements? It wasn't difficult to give an answer.
Jack Bruce fronted Sixties super group Cream alongside Eric Clapton and Ginger Baker, and has played with everyone from Marvin Gaye to Jimi Hendrix and from Lulu to Lou Reed. In this BBC documentary, ArtWorks Scotland tells the story of his life, from childhood in Scotland to global superstardom, through some of Jack's favourite songs and with contributions from Eric Clapton, Ginger Baker, Flea of Red Hot Chilli Peppers and Adam Clayton of U2.
The story encompasses some of the biggest riffs and rifts in rock, taking in family tragedy, drugs and near death. A specially-chosen set of six songs mark crucial moments in Jack's life, including Cream's Sunshine of Your Love. Jack re-recorded the tracks with some of Scotland's finest musicians including folk trio Lau, percussionist Jim Sutherland, keyboard player Andy May, guitarist Taj Wyzgowski, drummer Chris Peacock, his nephew Nico Bruce on bass and string ensemble Mr McFall's Chamber.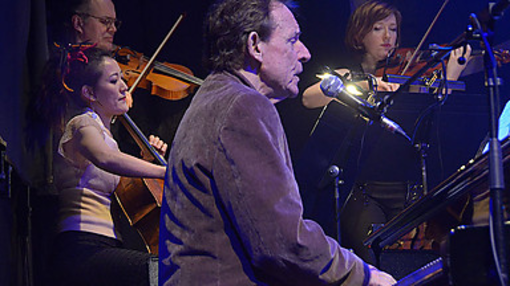 Having been a big fan of Jack since he was a young man, it was a privilege for Robert to arrange these songs for McFalls. And although Robert was in Chile at the time the recording took place, we hope you'll agree that Claire, Rosenna, Brian and Su-a do a pretty good job of being rockstars for the day.
The programme will be broadcast on BBC 2 Scotland on Monday 13th February at 9pm, and will be available on iPlayer for a short time thereafter.
More information on the BBC website.