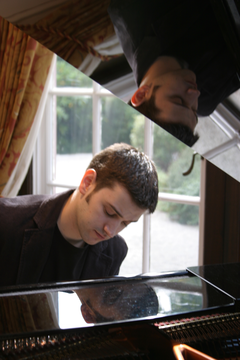 James Ross: Q&A
Tell us about your piece. What inspired it?
It is called Flow Country. The Flow Country is a large expanse of peat bog in Caithness and Sutherland. Covering 4000 square kilometres, it is the largest area of blanket bog in Europe. Dating from the end of the last ice age, the bog has developed due to the damp, acid conditions. The area is home to a rich variety of wildlife, and is used as a breeding ground for many different species of birds.
How difficult is it to capture a place in music?
For this project I had written the tune ideas before confirming a title. When I was arranging the material and exploring different moods I started to think about the title and a theme.
To what extent have you tried to segregate the 'classical' quintet and the 'folk' quartet in your score?
It is varied throughout the piece. In the 5/4 tune and the jig the pipes/whistle and fiddle are leading the tune while the quintet explore riff ideas. In the slow sections the 'classical' quintet and the 'folk' quartet are working together as a unit.
Have you worked on a collaborative project such as this one before, with other composers?
I recently collaborated with John Kenny and Dick Lee to create a musical response to the border ballad Tam Lin - the result is an hour-long dramatic setting in six movements, we composed 2 movements each.
How well do you all know each other, and what's it like working alongside them?
We have all worked with each other in different projects in the past. I am a big fan of Aidan, Corinna and Fraser's work and I am looking forward to playing in their pieces. I always love getting the opportunity to play music with Mr McFall's Chamber.
You've all had some interaction with McFalls in the past. What's your own background with Mr McFall's Chamber?
I recorded a suite of music called Chasing the Sun with Mr McFall's and Fraser Fifield. I wrote this music for the Blas Festival in 2008 and Celtic Connections 2009. Recently I worked in the studio with McFall's quartet on a score I wrote for a film called Happy Lands.
How do you feel about being involved as a performer as well as a composer in this project?
In terms of my own writing it is usual for me to be part of the ensemble.
You've had the first rehearsal now and each heard the other compositions. What are your impressions?
It was great hearing everybody's compositions. My first impression is that this is going to be a really interesting gig. I am really excited about the project and looking forward to the tour. I think I have a bit of practice to do before the next rehearsal!
Profile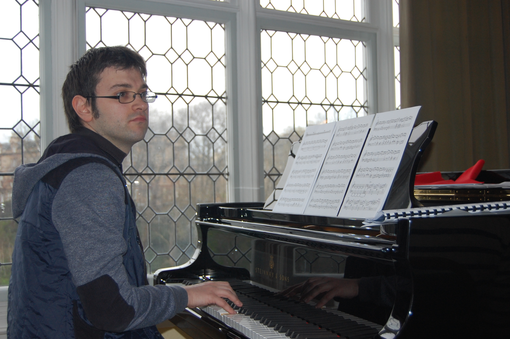 As both a player and a composer, James has a truly magical way with a piano. In his hands, this least traditional of instruments – according to conventional wisdom - attains fresh creative communion with Scotland's living folk heritage. Distilling these elements with classical and jazz influences. He is earning a growing reputation as a composer of music that pushes the boundaries of Scottish traditional music. He has received commissions from the Celtic Connections Festival, Blas Festival, Feis Rois and Theatre Workshop. His Chasing the Sun suite was premiered to critical acclaim at the 2008 Blas Festival and Celtic Connections 2009.
James released his debut album, featuring his own arrangements of traditional tunes on the Greentrax label in 2006. His piece Chasing the Sun with Mr McFall's Chamber and piper and saxophonist Fraser Fifield was released this year. Besides the new recording, plus ongoing work with Irish singer Michelle Burke, subsequent projects have included an experimental collaboration with clarinettist Dick Lee and trombonist John Kenny, based on the ancient ballad Tam Lin, and a commission from Highland music tuition project Fèis Rois, in partnership with Drake Music Scotland, involving school children with learning disabilities alongside professional musicians. The Boy and the Bunnet is a new words-and-music creation that teams Ross with Booker-nominated author James Robertson, intended as a children's introduction to traditional folk instruments. James's most recent project is composing the score for Theatre Workshop's feature film Happy Lands due for release in June 2012.
James teaches traditional piano at the Royal Conservatoire of Scotland and was twice nominated for Composer of the Year at the Scots Traditional Music Awards, in 2008 and 2010.