Day 3 of the Electronics Project returns Su-a back to the group, but we started late to let her entertain the children giving us a 4 - 10pm working day (which inevitably extended a little beyond this). It is very exciting as to how completely different the music and approaches are from day to day and today was no exception…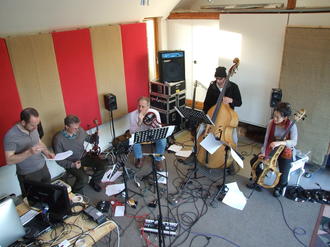 Overlapping Surfaces
'overlapping surfaces' began in my mind as a fairly abstract piece, but through working with these musicians it has gained a little more humanity. The initial idea I had was for the electronic sounds, and these ideas were very visual. The electronics take the sounds of the quartet and smear them across time, the harmony of the live music is captured and sustained by the electronics to make a dense mesh where instruments and electronics are a single sound. To contrast with this, the violent central section of the piece uses a strobe-like effect, again capturing the quartet sound live but now rapidly flickering across the speakers. The final section returns to the smearing of the opening, but this time even more static and frozen, with the musicians playing along to an extreme slow motion version of themselves as the first section returns like a frozen memory.
About Scott
Scott Mc Laughlin was born in Ireland (Co. Clare) in 1975. He played in indie-rock bands until his mid-twenties, then studied music at the University of Ulster at Jordanstown where he gained a BMus degree in 2001. He completed a PhD at the University of Huddersfield with Pierre Alexandre Tremblay and Bryn Harrison in 2009. Currently, he is an Honorary Visiting Research Fellow at CeReNeM (Uni. of Huddersfield).
His music is concerned with relationships between minimal processes of transformation and proliferation: ideas of recursion, hysteresis, difference, cluster-microtonality, chaos/complexity theory, interactivity. Scott is also an improviser (cello or live electronics), and plays in the pop/alt-folk duo Phantom Dog Beneath the Moon. Recent performances have been given by Sebastian Berweck, Jonathan Sage, Metapraxis Ensemble, Crash Ensemble, Trio Scordatura, and the public attendees at Analogous Projects' ICMC 2010 event in New York.