In May 2011, we spent a week in a remote studio working with five electronics composers, developing new works using electronic instruments.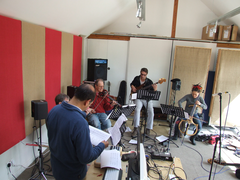 We're delighted to hear that one of the composers, Marc Estibeiro, will be taking his piece, Orbital Resonances, to IRCAM in Paris. IRCAM is one of Europe's leading centres for new music research, so it is a wonderful opportunity for Marc to present his work, and for our Electronics Project to reach new audiences.
Marc writes:
'I'm very pleased to be able to tell you that I am going to be giving a presentation at the IRCAM Forum Workshops in Paris on the 17th November. The workshops are an annual meeting where research teams and software users exchange ideas and present works related to IRCAM products and activities. This year I submitted my composition - Orbital Resonances No. 3 - for inclusion in the event and I am delighted to report that it has been accepted. This is the piece I composed for the Electronics workshops organised by Mr McFall's Chamber earlier this year. The composition is for small ensemble and electronics and was rehearsed and recorded during a very productive day at Heriot Toun Studios in May. These are recordings that I will be playing during my presentation at IRCAM. I'd like to thank McFall's Chamber, and everyone involved in the project, for the opportunity the record my piece and for the sympathetic and professional way they approached my music.'
You can read about Marc's experiences of working with McFalls, and listen to his music here.