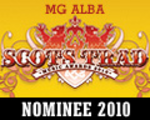 We are delighted to announce that 'Birds and Beasts', our album of music by Martyn Bennett and Fraser Fifield released on Delphian Records earlier this year, has been nominated for Album of the Year in the MG ALBA Scots Trad Music Awards 2010. The aim of these Awards is to highlight Scotland's wonderful traditional music in all its forms and to create a high profile opportunity which will bring the music and music industry into the spotlight of media & public attention.
The album is up against three other strong contenders, so we need your votes to claim the prize. Voting is open between 1st and 19th November, with the winner announced at the awards ceremony on 4th December. Please visit the link below and vote for 'Birds and Beasts':
http://www.handsupfortrad.co.uk/tradmusicawards/voting2010-info.html
While you're there, why not also vote for Fraser Fifield, who has been nominated in the Best Composer category.