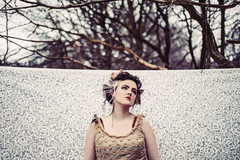 31 Jan 2016, 13.00
Glasgow Royal Concert Hall
Celtic Connections - Book Online 0141 353 8000
£12 plus booking fee
Core Mr McFall's Chamber members join Kate Young
The Scottish singer, fiddler and composer Kate Young is clearly on a tremendous creative roll, having released her debut album as Kate in the Kettle, Swimmings of the Head, to glowing reviews in autumn 2014, followed by further acclaim for her work with all-female fiddlers/singers quartet Carthy, Hardy, Farrell and Young.
Following collaborations between Kate Young and Mr McFall's Chamber as part of the Distil showcase 2015 and our Further Distillations concerts, we're delighted that two of our core members, Robert McFall and Su-a Lee, will join Kate's band for this headline Celtic Connections concert.
Here she presents a new collection of songs, partly inspired by fragments of traditional material, exploring the largely lost or hidden lore of plants' healing powers, and seeking to restore this knowledge to its rightful cultural place. Her accompanying strings/percussion line-up features Corrina Hewat, Patsy Reid, Su-a Lee, Robert McFall, Morag Brown, Emma Smith and Tim Lane.
Please note: This concert takes place in the Strathclyde Suite of the Glasgow Royal Concert Hall.