CD cover - "Caos" by Dolores Molinari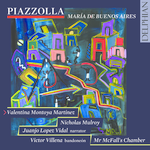 Download (531Kb 340x340 )
Our new CD of María de Buenos Aires has now been released and is available "from all good record shops" as well as from our "recordings" page below. It has been reviewed by Kate Molleson in the Guardian (see "reviews") and more reviews are due (the Gramophone, BBC Music Magazine) in the new year. We are all absolutely delighted by it - artwork, recording, translation etc - and have received many favourable comments. You can hear samples on the "recordings" page.
"The imaginative unorthodoxy of Mr McFall's Chamber has singled it out as a flamboyant presence on the Scottish music scene" (The Scotsman)
Para mi Mamá - by Dolores Molinari
'Why can't all concerts be like this - engaging, witty, relaxed, sophisticated, exquisitely played and just plain fun?' (The Times)
Renowned for their innovative approach to programming and stylistic plurality, Mr McFall's Chamber have been described as 'the jewel in the Scottish musical crown' (The Scotsman), and lauded as 'potentially the most important single development on the Scottish music scene for a long time' (The Herald). The ensemble plays a range of music from tango through jazz and rock to contemporary classical, taking in quite a lot besides. It consists of string quartet, bass, piano, percussion and sometimes vocals - and more as required. The group's aim is always to create new audiences, new music and new directions in music.
Sign up to our mailing list, visit our Gigs pages or follow us on Facebook or Twitter to keep up to date with gig dates, guest artists, CD releases and special offers.