Dominic Waxing Lyrical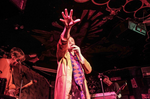 Download (311Kb 1200x799 JPEG)
Very excited to announce our upcoming performance backing both Dominic Waxing Lyrical and Aberfeldy at La Belle Angele on Saturday 25th Feb. We have started rehearsing for this already. Dominic Waxing Lyrical's new album, Rural Tonic, is at the pressing plant at this very moment - and we've been involved with it over the last few months. We'll be joined on 25th Feb by a few guests of our own - Peter Whelan, the principal bassoonist in the SCO, will be playing both harpsichord and bassoon. Alec Frank-Gemmill, principal horn with the SCO, and Graeme McNaught, piano, will also be there. Opening the evening will be the vocal duo The Jellyman's Daughter - our choice out of the numerous young singer/songwriters around - they accompany themselves on guitar and cello (and a few other instruments). Go to our video page to watch them.
If you want to watch a video of us performing one of Dominic's acoustic songs, go to our video page.
"The imaginative unorthodoxy of Mr McFall's Chamber has singled it out as a flamboyant presence on the Scottish music scene" (The Scotsman)
Aberfeldy
Riley Briggs, Murray Briggs and Ken McIntosh - who are Aberfeldy, but also members of Dominic Waxing Lyrical
'Why can't all concerts be like this - engaging, witty, relaxed, sophisticated, exquisitely played and just plain fun?' (The Times)
Renowned for their innovative approach to programming and stylistic plurality, Mr McFall's Chamber have been described as 'the jewel in the Scottish musical crown' (The Scotsman), and lauded as 'potentially the most important single development on the Scottish music scene for a long time' (The Herald). The ensemble plays a range of music from tango through jazz and rock to contemporary classical, taking in quite a lot besides. It consists of string quartet, bass, piano, percussion and sometimes vocals - and more as required. The group's aim is always to create new audiences, new music and new directions in music.
Sign up to our mailing list, visit our Gigs pages or follow us on Facebook or Twitter to keep up to date with gig dates, guest artists, CD releases and special offers.