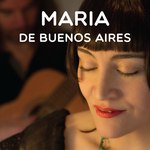 Many many thanks to all who contributed towards our Maria de Buenos Aires recording, particularly those who donated over £50, who are listed below. We were successful in raising what we needed, along with a generous last-minute award from Creative Scotland. We'll keep you up-to-date with the progress of the recording - huge thanks to all.
Over £50 donors - thank you!
Jocelyn Anderson, David Ferrier, S. Ferrier, David Finnegan, Chris Fletcher, B.J. & M.L. Gill, Sarah Greenhous, Tom Grieve, Lianne & Nigel Hackett, Frank Hitchman, Marian Jacobs, Anderw Johnston, Katherine Kirk, Christine Lessels, Alexander McCall Smith, Donald McDonald, Elaine McGuirk, Jane McNish, Philip Oppenheim, Caroline & Michael Pearson, James Wastle, and Willie Wilson.
Please support us as we prepare to release this new CD with the ever-brilliant Delphian Records - Pre-order your CD for £15. Thank you!
"The imaginative unorthodoxy of Mr McFall's Chamber has singled it out as a flamboyant presence on the Scottish music scene" (The Scotsman)
Su-a Lee, cello; Brian Schiele, viola; Rick Standley, double bass; Robert McFall, violin
'Why can't all concerts be like this - engaging, witty, relaxed, sophisticated, exquisitely played and just plain fun?' (The Times)
Renowned for their innovative approach to programming and stylistic plurality, Mr McFall's Chamber have been described as 'the jewel in the Scottish musical crown' (The Scotsman), and lauded as 'potentially the most important single development on the Scottish music scene for a long time' (The Herald). The ensemble plays a range of music from tango through jazz and rock to contemporary classical, taking in quite a lot besides. It consists of string quartet, bass, piano, percussion and sometimes vocals - and more as required. The group's aim is always to create new audiences, new music and new directions in music.
Sign up to our mailing list, visit our Gigs pages or follow us on Facebook or Twitter to keep up to date with gig dates, guest artists, CD releases and special offers.