Aidan O'Rourke: Q&A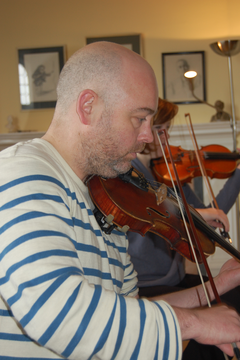 Tell us about your piece. What inspired it?
There's a terrific cacophony in Oban Bay at the stroke of midnight on Hogmanay. That's the inspiration for the start of my piece. Then the partying starts.
How difficult is it to capture a place in music?
I'm lucky to have been brought up in one of the most beautiful parts of the world. I've used the Argyll coast as a constant source of inspiration in my music. The place and the music is synonymously connected.
To what extent have you tried to segregate the 'classical' quintet and the 'folk' quartet in your score?
I find that the two move to a different fundamental musical feel. So I treated it as two groups. We move to the same pulse but I've kept them as two distinctly different energies.
Have you worked on a collaborative project such as this one before, with other composers?
I recently worked with my trio Lau and Irish composer Brian Irvine. We all contributed to a piece called Strange Attractors which was conducted by Brian and performed by Lau and the Northern Sinfonia.
How well do you all know each other, and what's it like working alongside them?
I've known and worked with James, Corrina and Fraser before. I respect them all a lot as players and composers. This is a great opportunity to play and also to learn from each other.
You've all had some interaction with McFalls in the past. What's your own background with Mr McFall's Chamber?
I wrote a piece called Bridge which was performed by McFalls and fiddler Shona Mooney as part of a Distil composition. I think we might be adding the piece to the concert, so it will be nice to get a chance to play it myself. Better get practising!
How do you feel about being involved as a performer as well as a composer in this project?
I've performed on most of the pieces I've written in the past. But there's an interesting dynamic when the role changes from composer/musician to only musician. It keeps you on your toes.
You've had the first rehearsal now and each heard the other's compositions. What are your impressions?
They're all fantastic pieces. It's great knowing them all as musicians for years and hearing their distinct characters coming across in the music.
Profile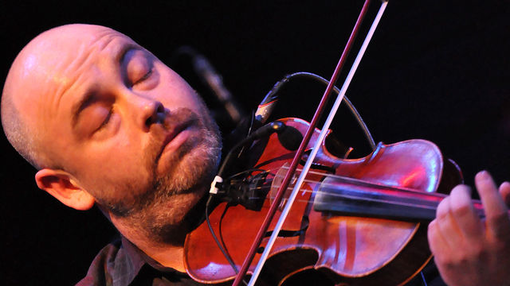 Fiddler and composer Aidan O'Rourke is one Scotland's foremost musicians who is deeply rooted in tradition while audaciously expanding its parameters. A founder member of top UK folk acts Blazin' Fiddles, Lau and Kan, he has released two solo albums, Sirius (2006) and An Tobar (2008), as well as featuring on more than 130 recordings by other artists. His original compositions, including a string of high-profile commissions, have won widespread acclaim for their innovative synthesis of diverse musical styles.
With his band Lau Aidan has headlined festivals worldwide and toured extensively across three continents. Growing up in the Highland port of Oban, and then later on the island of Seil, Aidan began learning the fiddle aged eight absorbing a variety of influences from both his musical family and from local teachers, by the age of 16 he had toured UK, Europe and north America and was a three time finalist in the prestigious Glenfiddich Fiddle Championships. Since then he has gone on to win a string of awards including; Instrumentalist of the Year at the 2006 Scottish Traditional Music Awards, Composer of the Year at the 2011 Scottish Traditional Awards and his group Lau have won Best Group three times a 2008, 2009, 2011 at the BBC Folk Awards. Aidan has received a number of prestigious commissions including Mantra Alba, to welcome the Dalai Lama to Scotland in 2004 and most recently wrote the soundtrack to Wolf, a short film by Dundee artists Dalziel + Scullion. Aidan has just finished recording Lau's third studio album 'Race The Loser" and is currently writing piece called TAT-1 which was commissioned by An Tobar arts centre in Mull and will be used as part of the musical celebrations at the 2012 Cultural Olympiad in London in July.