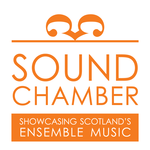 Monday 22nd August, 2.30pm
St Andrews & St George's Church, Edinburgh
We are delighted to be taking part in this showcase of music from leading Scottish chamber music ensembles as part of the Edinburgh Fringe. Our performance will include works by Martyn Bennett, Gavin Bryars, Astor Piazzolla and Raymond Scott.
Sound Chamber will host two public concerts at 14.30-15.15 and 18.00-19.15 giving festival goers the chance to hear from four of Scotland's groups: The Dunedin Consort, Mr McFall's Chamber, Concerto Caledonia and Auricle Ensemble. Demonstrating the diversity of Scotland's chamber music scene, the concerts will feature music from the middles ages to living Scottish composers, combining classical masterpieces with medieval Scottish folk, South American tango and the spoken word.
This is a unique musical event that promises to delight festival goers, engage participants and, in conjunction with Scotland's support and development bodies, hopes to play a part in reinforcing the future success of a vital part of Scottish musical life.
Sound Chamber: showcasing Scotland's ensemble music
Sound Chamber is presented by the Chamber Music Forum Scotland, Scottish Music Centre and Enterprise Music Scotland, with investment from Creative Scotland