Monday 8th August, 7.30pm
Glasgow International Piping Festival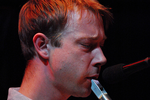 Mr McFall's Chamber's new album 'Birds and Beasts' has been attracting a lot of attention since its release in May on Delphian Records and this is a rare opportunity to hear the programme live once more as part of Piping Live 2011.
Nine luminaries of Scottish Classical, Jazz and Folk music come together on Birds and Beasts to celebrate the music written of the late musical genius Martyn Bennett, who died at a tragically young age leaving an incredible legacy of work. His unique dance music was inspired by the tunes and rhythms of his Gaelic roots and his connections with other traditional musical cultures, letting their vibrancy, eloquence and spirit resound alongside electronic beats and grooves. A long-planned collaboration with Mr McFall's Chamber was never realised during Martyn's short lifetime. For their second disc with Delphian, Robert McFall has put together a programme of his own sympathetic arrangements of Martyn's music alongside original works by Fraser Fifield, another of Scotland's virtuosic musical innovators. The premiere recording of Martyn's 'Piece' epitomises his sophisticated mastery of fusion.
"One of the most innovative albums of the year" (Folk Radio UK)
"A virtuoso achievement all round" (The List)
Tickets: www.pipinglive.co.uk