Sunday 6th May, 7.30pm
Eastgate Theatre, Peebles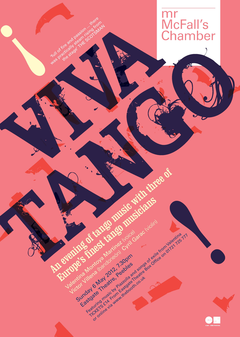 A concert of tango music with three of Europe's finest tango musicians.
With Special Guests:
Valentina Montoya Martinez (voice)
Victor Villena (bandoneón)
Cyril Garac (violin)
When Mr McFall's Chamber first teamed up with Chilean singer Valentina Montoya Martinez in 1997, we began one of our most thrilling collaborations, exploring the intricacy and intrigue of tango music. Valentina's haunting and enchanting blend of South American folk music is rooted in personal experiences, exploring emotions that are vibrant, evocative, passionate and tragic. For this evening of tango music we are joined by two of Paris' finest tango musicians, bandoneón player Victor Villena (formerly of the Gotan Project) and violinist Cyril Garac (of Quinteto El Después), for a programme of tango instrumentals and songs - including music by Piazzolla and songs of exile by Valentina.
'The Chilean-born singer's voice is…full of fire and passion... there was practically steam rising from the stage' (The Scotsman)
Tickets: £14
From Eastgate Theatre Box Office on 01721 725 777 or online via http://www.thebooth.co.uk