Cottier's Theatre, 93-95 Hyndland Street, Glasgow G11 5PU
Wednesday 12 June 2013, 8.30pm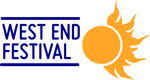 The fiesta gets started as Mr McFall's Chamber bring music by Argentinean tango king, Astor Piazzolla, along with songs by Chilean singer-songwriter Valentina Montoya Martinez.
Valentina Montoya Martinez – vocals
Cyril Garac - violin
Robert McFall - violin
Brian Schiele - viola
Su-a Lee - cello
Rick Standley - double bass
Paul Harrison - piano
Tickets £7-£20, available online. Further details about The Cottier Chamber Project are available on their website.