Sunday 23rd October, 2.45pm
The Lemon Tree, Aberdeen
Over the weekend of 21st-23rd October 2011, sound festival will be hosting the inaugural New Music Scotland Showcase and Conference in Aberdeen. NMS presents an inspiring weekend of performances, talks and discussions led by an opening lecture 'New Music, Is Anybody Listening?' given by Jonathan Cross, Professor of Musicology at University of Oxford.
It is aimed at all performers, creators and promoters of music in Scotland, the UK and beyond that have an interest in new music. The event will give delegates the opportunity to discuss topics relevant to the promotion of new music and will showcase the best music and sound art that Scotland has to offer.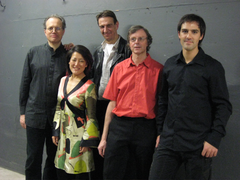 Mr McFall's Chamber are delighted to be taking part in the weekend's activities and will be performing on Sunday afternoon with legendary Norwegian jazz musician, Thomas Stronen. Stronen is principally a jazz drummer, but also uses electronic loops to do elaborate solo performances on various exotic metal objects – bells, gongs, cymbals, but also found objects. In 2009, Mr McFall's Chamber journeyed to Norway to join Stronen and record a new album, Musique Metrique. Due to be released on ECM in the UK in the near future, Musique Metrique is Stronen's only work for strings to date, and is the first in a planned series of collaborations with the group.
Tickets are £5 per event, £10 for a full day pass, £15 for a weekend pass, available from:
The Music Hall or His Majesty's Theatre: Monday – Saturday 9.30am – 6.30pm or at
The Lemon Tree: Friday – Sunday 11.30am – 2.30pm
By phone: 01224 641122
Online: http://www.boxofficeaberdeen.com