Clachan Church, Applecross
Monday 3 September, 8.00pm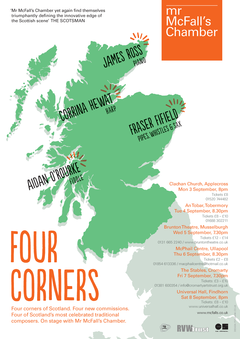 Mr McFall's Chamber and Special Guests:
Aidan O'Rourke – fiddle
Fraser Fifield – pipes/whistles/sax
Corrina Hewat – harp
James Ross – piano
Described by The Scotsman as a 'maverick ensemble' who 'have the knack of taking audiences on insightful musical journeys', Mr McFall's Chamber are renowned for their innovative approach to programming and stylistic plurality. For their latest musical mystery tour, the group journeys across Scotland's varied terrain, joined by four of the finest Scottish folk musicians around, each of whom has written a new piece that captures their very own 'corner' of the country. From Oban to the Black Isle, Aberdeenshire to Wick, Four Corners celebrates the tradition and diversity at the heart of Scotland's musical culture, in what promises to be another memorable adventure.
Fiddler Aidan O'Rourke hails from Oban and was the winner of composer of the year in the 2011 Scots Trad Music Awards, best-known for his work with folk trio, Lau. Born in Aberdeenshire, piper and whistle player Fraser Fifield is recognised as a multi-instrumentalist and composer with a distinctly original sound. Originally from the Black Isle, Corrina Hewat has been described by Roots Review as 'a prodigiously talented harpist', and has earned an international reputation as a composer, performer and arranger. Wick-born pianist James Ross is a previous BBC Radio 2 Young Folk Award finalist and distils folk, classical and jazz influences to magnificent effect.
"Four Corners displays just how diverse and pliable traditional Scottish music can be, and the way it can blend readily with a multitude of other sounds and genres." (Northings, May 2012)
Tickets £8
01520 744 482