Eastgate Theatre, Peebles
Saturday 4th August, 7.30pm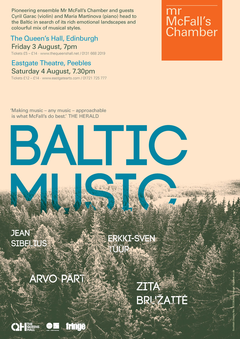 Living on the cultural and political fault-line between Russia, Scandinavia and Germany, the four countries which face the Baltic Sea from the East – Finland, Estonia, Latvia and Lithuania – have all had to struggle for independence from neighbouring superpowers. Their music, too, is deeply affected by these fault-lines: richly cross-fertilised but often imbued with a dark intensity, traversing deep emotional landscapes.
Intrepid explorers Mr McFall's Chamber delve into this fascinating musical culture, with music ranging from Jean Sibelius, founder of Finnish nationalism in music, through the sombre minimalism of Arvo Pärt, to the hard-hitting works of Estonian ex-prog-rocker Erkki-Sven Tuur, taking in pianist Olli Mustonen's Bach-influenced Toccata and the sensuous ebb and flow of Lithuanian Zita Bružaite's Waves. Renowned for their performances of tango music, McFalls are also joined by two tango musicians of international renown, violinist Cyril Garac and pianist Maria Martinova, for this programme which also includes two classics of Finnish traditional tango, and Aulis Sallinen's take on the Finnish tango tradition, Introduction and Tango Overture.
Tickets: £12 - £14
01721 725777 / http://www.eastgatearts.com