On Sunday afternoon, Mr McFall's Chamber performed their first gig ever without Mr McFall. Robert is away in Chile for six months taking a well-deserved break, so it fell to Claire Sterling to sit in the hot seat and do her best Robert impression. In fact, Claire has joined the group for many performances in the past and we're always delighted to have her, so it was more of a natural transition that a dramatic lurch. But it was a strange occasion: who should introduce the group and give the now famous 'church notices'? And who has the music stands? And do we think the stand lights might be around somewhere too? (As it happened, Rick did a fine job at introducing the group, and Brian has both the stands and the lights in his possession – we're doing a good job at coping so far, I think).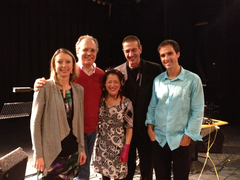 The group were performing alongside legendary jazz drummer, electronics musician and composer, Thomas Stronen, who came over from Norway to join us for the performance. In 2009, McFalls journeyed to Norway to join Thomas and record a new album, Musique Metrique. Due to be released on ECM in the UK in the near future, Musique Metrique is Thomas' only work for strings to date, and is the first in a planned series of collaborations with the group. For those who have never heard Thomas' music, it is a hypnotic, chilled mix of looped rhythmic patterns, sinuous strings and melodic hooks. Thomas has amassed a collection of bells, chimes gongs and other assorted percussion instruments, which he plays alongside a standard drum kit, occasionally feeding his performance into a little electronic box which loops them back, layering up rhythmic textures in a quasi-minimalistic way that borrows from both jazz and classical traditions. But watching Thomas play is a lesson in itself – everything is carefully placed, and he conjures sounds from a drum kit that you may never have thought possible. It is subtle playing with a gentle touch – and a real joy both to listen to and to watch.
The performance was just one of a weekend of new music concerts in Aberdeen, part of the New Music Scotland network, and hosted by sound festival. As the name suggests, New Music Scotland was formed with the aim of bringing together everyone involved in new music in Scotland – including performers, promoters, composers, and even interested audience members and the general public. As well as a host of eclectic performances, the weekend also incorporated a number of talks, including a keynote speech from Jonathan Cross, who questioned the meaning of 'new music', and a report on an interesting study into contemporary music audiences, commissioned by Red Note in collaboration with St Andrew's University.
For me, the highlight of the weekend (aside from the McFalls performance of course!) was undoubtedly the haunting and evocative performance given by James Clapperton and Sven Erga Saturday evening at Woodend Barn in Banchory. Admittedly, the evening had all the right ingredients – a beautiful barn in the middle of nowhere, a glass of wine in hand and the promise of a tasty meal to follow – but these cannot take away from the gorgeousness of their piece, Passing Place. Solo piano (played beautifully by James), projections of the Norwegian landscapes floating freely between the distinct and the abstract, and sound recordings of creaking icebergs and under-sea static combined to truly mesmeric effect. It is a performance that will stay with me for some time.
As the manager of McFalls, events like this are a perk – the chance to spend time with like-minded folk, to plan possible collaborations and, on this occasion, a wonderful opportunity to enjoy some first-class performances and some thought-provoking perspectives on new music. Hats off to sound for hosting what I hope will be the first of many NMS events. It's a shame Mr McFall wasn't there, but I think he would have been pleased.
Jo Buckley