Wed 6 Feb 2013
watch Ailie's workshop
As a composer with very little experience working with electronics, I was very excited to have this opportunity to workshop my piece with the ensemble. As I had written it, I was very conscious of trying to be as precise as possible with my notation, and yet still leave plenty of room in the piece for the electronics, and so to reflect this, and also the sentiments of the piece, the work emerged more as for four soloists working together, rather than for a traditional 'ensemble'.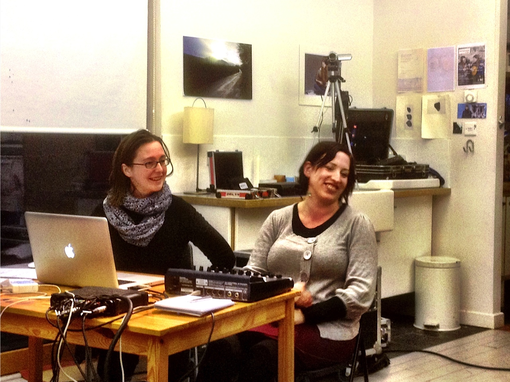 Notating harmonics properly has always been something I've struggled with, and orchestration books are mostly woolly on this topic, so Brian very kindly gave me a wonderful worksheet which has totally clarified the matter for me now. It will make future writing much easier!
I had had the idea that I wanted to pick up lots of the extraneous noise from each player - the rustling of their clothes, their breathing, the movement of their fingers, and so we played around with the microphones to try and pick up more from each person. The reality, however, was that this wasn't particularly effective. I played Ben a recording that I really like - 'Felt' by Nils Frahm, and he agreed that the sounds on that recording were probably enhanced with pre-recorded material, so maybe this is something I would explore more the next time.
Once the string parts were set, Pippa, Ben and I looked at putting various effects on each of the players, using Ableton Live, which could then be maniputed during the performance. I found Ableton to be a very pleasant interface to use for this, and over the course of the afternoon got to a point where I felt comfortable manipulating the electronics myself.
I was delighted with the overall outcome, and can't thank the players, Pippa and Ben for all their help and encouragement during the day.