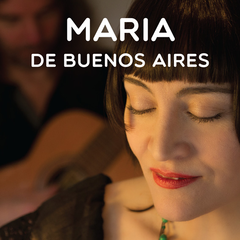 A benefit concert in aid of
- The Scottish Refugee Council
- East Lothian Aid for Refugees
- RE-ACT Refugee Action Scotland
Astor Piazzolla's masterpiece
María de Buenos Aires
Canongate Kirk Edinburgh at 7.30pm
Thu 16 June 2016
All proceeds go to charity
Entry by donation on the door. No pre-booking required. Unreserved seating
Please give generously!
The Refugee Scotland Festival takes place 14-26 June 2016, for info about other events, please visit their website
Due to an unexpected cancellation very recently, we have been able to mount a special pop-up benefit concert in aid of the valuable work supporting refugees coming to this country. We are delighted to bring this beautiful music to the equally beautiful setting of Canongate Kirk, and hope that it encourages a full house of people looking to support the work of the Scottish Refugee Council, Refugee Action Scotland, and East Lothian Aid for Refugees. All ticket money goes to charity. Please tell your friends, and we look forward to seeing you there!
About the music
This work represents the very summit of Piazzolla's nuevo tango and, as such, also represents a coming together of twenty years of the group's programming of his music, from our very earliest days at the old Bongo Club.
Directed from the bandoneon by Victor Villena, the performance also features tango singer Juanjo Lopez Vidal as el duende, the narrator of the colourful spoken text by Horacio Ferrer, as well as Nicholas Mulroy as un payador and Valentina Montoya Martínez as María herself. Instrumentalists include violinist Cyril Garac, pianist Phil Alexander, guitarist Malcolm MacFarlane, flautist Alison Mitchell and percussionist Iain Sandilands, along with the group's core members, Robert McFall, Su-a Lee, Brian Schiele and Rick Standley.
The performance also features original film of Buenos Aires street-life by the young Argentine film director Geraldine Comte. This moving backdrop is entirely in accordance with Piazzolla's original intentions as to the staging of the piece. There is also a speaking chorus of "brothel keepers, spaghetti makers, brick-layers and psychoanalysts". Shot through with religious imagery mixed with Buenos Aires slang, the work presents María as both virgin mother and essence of the street culture in which the tango tradition developed.
Programme
Maria de Buenos Aires
Astor Piazzolla (music) and Horacio Ferrer (lyrics)
Running time approximately 2 hours, including a 20-minute interval
Act one:
1) Alevare
2) Tema de María
3) Balada para un organito loco
4) Yo soy María
5) Milonga Carriguera
6) Fuga y misterio
7) Poema valseado
8) Tocata Rea
9) Miserere canyengue
Interval [please note there is no bar in this venue]
Act two:
10) Contramilonga a la funerala
11) Tangata del alba
12) Carta a los árboles y las chimeneas
13) Aria de los analistas
14) Romanza del Duende
15) Allegro tangabile
16) Milonga de la anunciación
17) Tangus dei
Artists
El Duende: Juanjo Lopez Vidal
María: Valentina Montoya Martínez
Payador/ Gorrión/ Analista primero/ Una voz de ese domingo: Nicholas Mulroy
Musical director/ bandoneon: Victor Villena
1st violin: Cyril Garac
2nd violin: Robert McFall
Viola: Brian Schiele
Cello: Su-a Lee
Double bass: Rick Standley
Piano: Phil Alexander
Guitar: Malcolm MacFarlane
Flute/ Piccolo: Alison Mitchell
Percussion: Iain Sandilands